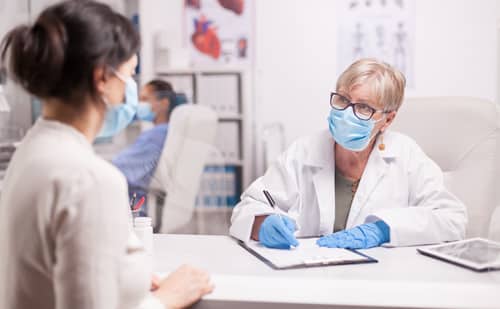 VISITATION POLICY:
To assure that visitation is therapeutic, does not interfere with the care of the patient or operation of the Hospital and complies with applicable regulatory guidelines.
PROCEDURE:
1. Only two visitors are permitted at one time with any patient in the inpatient or outpatient setting during visiting hours. The hospital allows for the presence of a support individual of the patient's choice, unless the individual's presence infringes on other's rights, safety, or is medically or therapeutically contraindicated. A spouse, parent or support individual shall not be counted as a visitor. An exception to the number of visitors may be made in an emergency or critical situation.
2. Visitors shall not leave children in waiting areas unsupervised. To reduce the chance of spreading communicable disease, children may not be permitted in a patient's room dependent on the patient's condition.
3. Pediatric, Critical, Terminal or Confused Patients: During non-visiting hours, there may be restriction of visitors dependent on patient condition. Two family members or support individual may stay in the patient's room based on the level of care and treatment of the patient.
4. There will be no restriction, limitation, or otherwise denial of visitation privileges on the basis of race, color, national origin, religion, sex, gender identity, sexual orientation, or disability.
5. In accordance with the American Disabilities Act ("ADA") and the Bill of Rights for people with disabilities, an ADA patient may request their caregiver to stay with them during a hospital admission (including overnight). Such requests will be evaluated on a case-by-case basis, taking into account, diagnosis, disease process, and transmission. A caregiver does not count against the ADA patient's visitor limitation, if one is currently imposed on the Hospital. When in doubt, Hospital staff should err on the side of granting an ADA patient's caregiver request.
6. Restriction of Visitors: Visitors may be restricted with a patient at the request of the patient or family; per order of the physician based on diagnosis of the patient; as recommended by the P & T Committee based on the Infection Control Advisory group recommendations in cooperation with the Greater Cincinnati Health Council during flu season; or per order of the Adams County Sheriff's Department for anyone in their custody.
A. A sign reading "Check with Nurse before Entering" shall be placed on the door to the room and the door shall remain closed.
B. Situations that shall require restriction of visitors shall be:
1. Patient has a communicable disease (Refer to the Infection Control Policy)
2. Patient who is a prisoner of the Adams County Sheriff's Department
3. Patient who is Opt Out Status (No information or restricted visitor patient)
4. At the patient or family's request
5. Per Physician order
6. Victim of abuse/neglect or per Adult Protective Services
C. Registration shall be notified when a patient has a designation of "Restriction of Visitors or "Opt Out".
D. If the restriction is lifted the signs shall be removed and Registration notified.
7. Any visitor violating hospital policy, acting in a disorderly fashion or creating a disturbance shall be asked to leave the premises. If the visitor refuses to leave or continues to create a disturbance, "Code Violet" shall be paged and if necessary the local Police Department or Adams County Sheriff's Office shall be notified.
8. The Hospital reserves the right to deny access to visitors who are not properly attired. To reduce the risk of spreading illness and/or disease, visitors are required to wear shirts and shoes at all times when entering the Hospital. Animals are not permitted in the hospital with the exception of Service Animals; refer to Service Animal policy for further information. Any visitor not complying with such requirements shall not be permitted to remain in the hospital. Nursing may also suggest that a visitor improve their hygiene before returning to the hospital.
9. Visitation Hours: 10:00 AM – 8:00 PM
10. After Hours Visiting: A visitor that has authorization from the Nursing Staff to stay with a patient after regular visiting hours shall obtain a Visitor's Pass at the Emergency Department Registration, Medical-Surgical or Observation Units.
11. Visitor(s) may be asked to step out of a patient's room in order to provide privacy during patient care.
12. There are times when the Visitor Policy may be modified at the recommendation (or mandate) from our local Health Department, such as during times of a disease outbreak, i.e. flu. During these times a notice shall be posted at all entrances and notification shall be made on the local radio station.
13. All staff who play a role in facilitating or limiting/restricting access of visitors to patients shall receive instruction on our visitation policies and procedures upon hire.